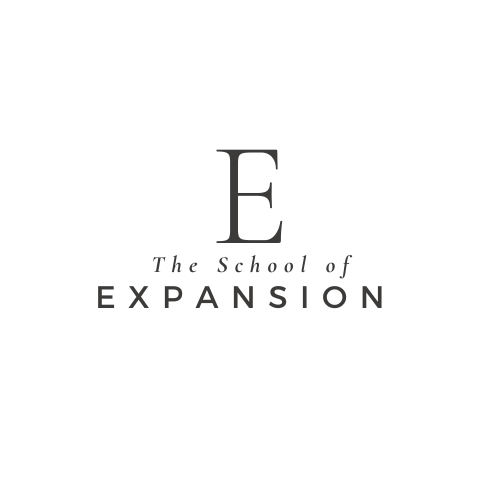 Welcome to The School of Expansion.
The School of Expansion is your week by week journey of expansion, empowerment and self-discovery designed to help you unlock more of who you really are, so you can be empowered to live more of the life you truly want to live. Scroll down to learn more.
Meet Your Guides to Transformation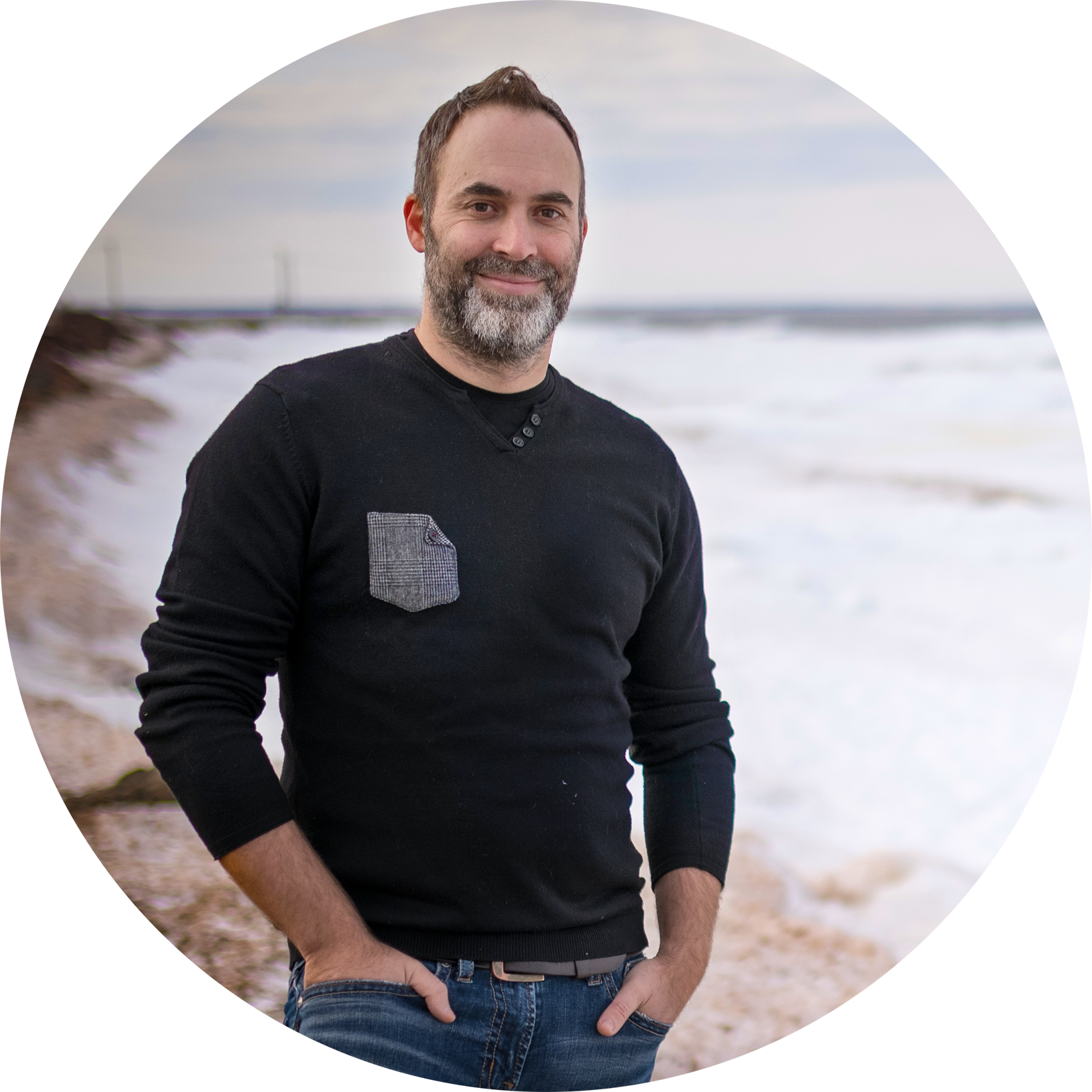 Nick Breau – Your Reality Hacker
Unveil the secrets of self-help, spirituality, human behavior, and the law of attraction with Nick, a former Computer Hacker turned People Hacker. With over a decade of experience, Nick has trained 200+ facilitators worldwide, sharing life-changing tools and concepts. He's the author of bestsellers like "The Power of Joy" and "Power Manifesting." Nick's insights are drawn from the wisdom of luminaries like Abraham-Hicks, where he's graced the hot seat over a dozen times.
Anik Gallant – Feminine Frequency Leader
Anik's lifelong journey through various spiritual teachings and religions has crafted her into a beautiful soul with embodied wisdom. Her passion lies in merging sacred feminine essence through writings, sidereal astrology readings, and connecting divine spirituality with the physical human experiences. Anik is a Trance Channel, akin to Esther Hicks and Darryl Anka, she has been channeling transmissions from source since 2018, enriching the lives of friends, private clients and within Nick's communities.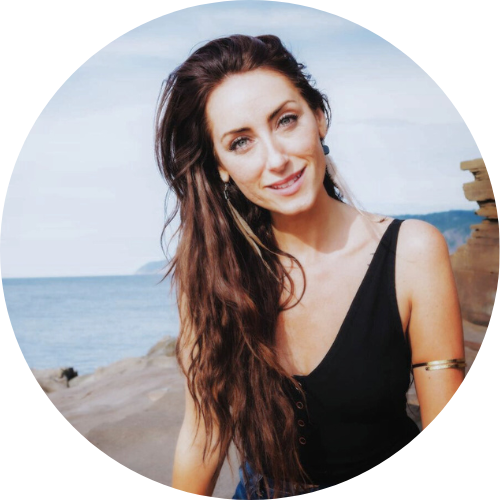 Explore a Source-Led Curriculum
The School of Expansion is a unique journey, guided by the ever-knowing source. There's no fixed curriculum because Source unveils the teachings based on the intentions and vibrations of our student members. What is brought forth in The School of Expansion is relevant to what is alive in your present reality and taking place in your life in realtime. Nick and Anik's role is to bridge these divine revelations, helping you integrate them into your personal growth, expansion, and empowerment.
Your Journey Week by Week
Every week, you'll receive either a live session led by Nick or Anik, or a content drop. Our live Zoom calls are brimming with teachings, hot seat interactions, breakthrough sessions, and channeled wisdom. Content drops consist of recorded meditations, tools, processes, and messages to elevate your consciousness. All content and call recordings are accessible on the user-friendly Teachable platform.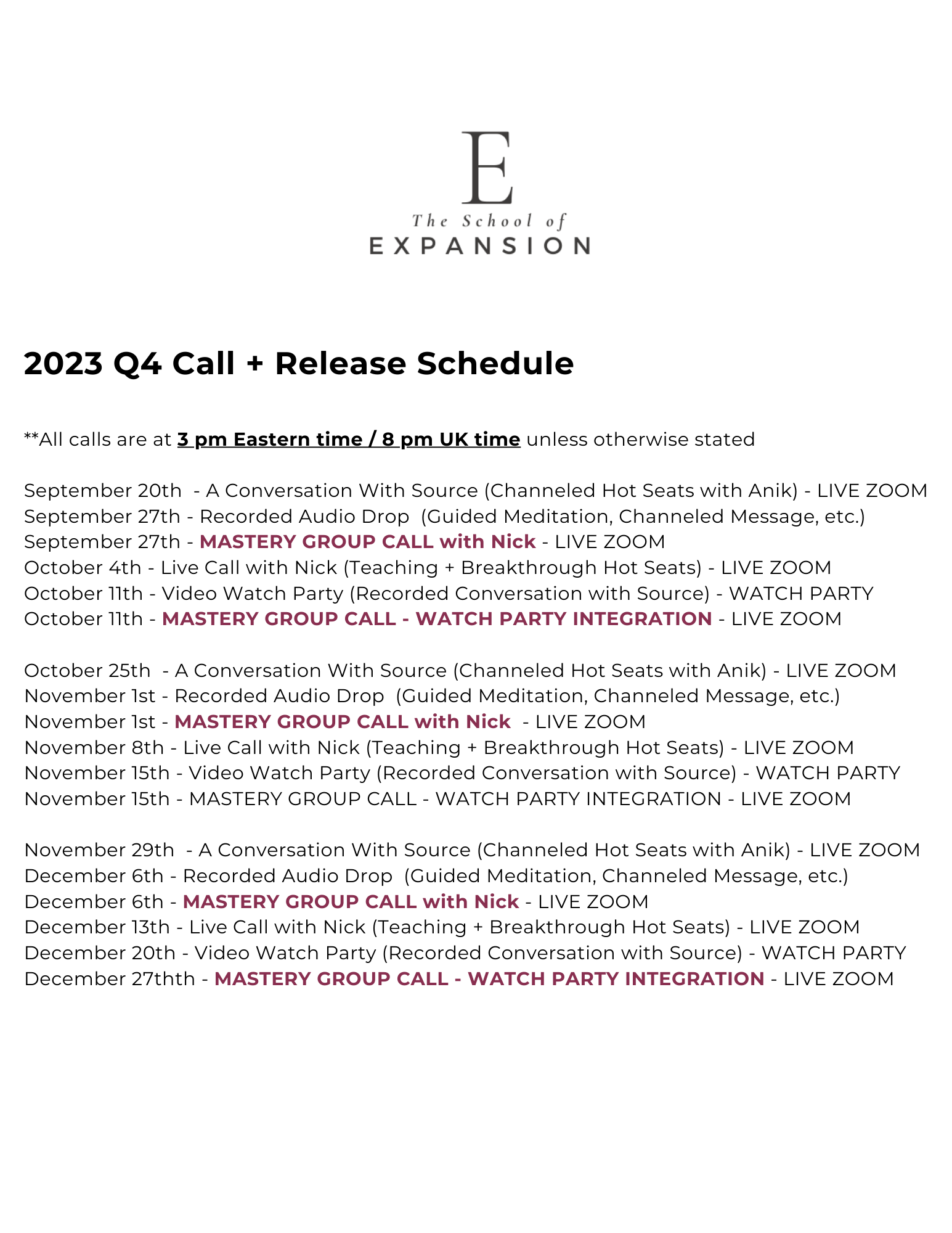 Elevate Your School of Expansion Journey with Mastery
For those seeking deeper integration, our Mastery Group is the key. Mastery group students join Nick and Anik for additional live sessions with deeper intimacy and daily support via a private Telegram chat group. This intimate setting and real-time ongoing conversation with Nick, Anik, and the Mastery Group students will help elevate your School of Expansion journey to it's highest level.
Join The School of Expansion and dive into discussions reminiscent of heart-to-heart talks with like-minded friends, exploring spiritual subjects akin to Abraham-Hicks, Joe Dispenza, Aubrey Marcus, and Lee Harris.
Just a few of the words you'll frequently hear in The School of Expansion
💫 Law of Attraction 💫 Manifestation 💫 Vibrational Frequency 💫 Alignment 💫 Source Energy 💫 Source Self and Higher Self 💫 Consciousness 💫 Quantum Shift 💫 Parallel Realities and Timelines 💫 Inner Child 💫 Emotional Guidance 💫 Higher Consciousness 💫 Quantum 💫 Reality Creation 💫 Transmutation 💫 Upliftment 💫 Unconditional Love 💫 Breakthrough
Getting the Nudge? Enrollment is Open
Becoming a student of The School of Expansion is a choice available to you at any time. Upon joining, you'll gain instant access to a treasure trove of past recordings and content via the Teachable platform. No commitments are necessary, students and cancel their memberships and exit the school at any time.
 Join us in unlocking your limitless potential at the School of Expansion. Your journey to empowerment and enlightenment begins here.
Option 1 – Register for The School of Expansion
Option 2 – Register for The School of Expansion + Mastery Group
If you're not completely satisfied with your experience, we have the ability to process any refund requests within the first 14 days of joining. That way there is ABSOLUTELY NO RISK, simply get in touch with us prior to the 14 day limit if you are unsatisfied for any reason.